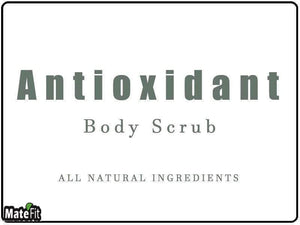 Antioxidant Body Scrubs and exfoliators slough away dull from head to toe, dry skin to reveal softer, brighter and smoother skin. Our body scrub is made with natural exfoliants like Coffee, Pink himalayan sea salt crystals, Organic Coconut oil, Cinnamon and scented with pure lavender essential oil.

So, you can scrub your body and feel nourishing, invigorating clean, leaving skin fresh and hydrated. Believe it or not Scrub will tingling feeling with the refreshing body.

Specs
Organic Coffee Powder--This will help exfoliate any dead skin, reduce cellulite, relaxes your skin and remove acne scars.
Organic Cinnamon--This will help treat acne scars, exfoliate any dead skin and improves the health of your skin by increasing blood circulation.
Himalayan Salt--This will help cleanse and detoxify your skin. The results of this will be a much healthier and smoother skin!
Organic Coconut Oil--This will help soften and smooths your skin. It will also heals your skin, by providing it with fatty-acids.
Pure Lavender Oil--This will help moisturize, tone and help reduce stretch marks.

Weight: 220 g each - 1 pouches (Total :220 g)
Gender : Unisex
Use: Body
Model Number: antioxidant-body-scrub
Quantity: Use two small handful of Body scrub and can use 12 -16 times
Usage
Get into
shower. Dampen
your
skin
lightly
with hot water. 
Take
two small handful of the Antioxidant Scrub
and
cover your body
(do not use it on your face!!)
Massage your body
for
5-10 minutes
(you will feel tingling sensation). 
Rinse off the scrub
and
wash
your
body
.
PACKAGING:
It comes in a
waterproof
organic
Kraft standing pouch.
If you want you can transfer the product into a more preferable container.
★★★★☆ Customer Reviews
We are in the market since 2013 from USA