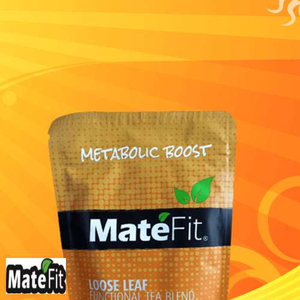 Metabolic Boost Tea 14 Tea Cups
7 Days Energy Boosting Tea -- 70 Grams
Take your workout to the next level.
MateFit METABOLIC BOOST is a strong blend of Organic Yerba Mate, Sechung Oolong Tea Pinhead Gunpowder Tea.
To help this antioxidant rich blend we added Angelica Root Powder, which promotes your body's blood flow.
This potent blend will give you a much needed morning boost, and keep you alert throughout the day. * limited stock and 1 only for one customer - household*
Metabolic Boost Ingredients: Organic Yerba Mate, Sechung Oolong Tea, Organic Pinhead Gunpowder Tea, Organic Angelica Root Powder, Guarana Seed Powder, Organic Licorice Root cut and Organic Stevia
WHAT HEALTH BENEFITS MAY INCLUDE?:
Natural plant based caffeine
Increased metabolism
No jitters!
---
Directions:
We recommend that you drink the formulation once in the morning before breakfast and then once again around noon, preferably before your lunch meal.
Feel free to boil the water first to purify it, then once it is at an ideal temperature, pour the hot water (around 195 F) in an 8 Oz container. We have special MateFit Shake Bottles available.
Add a teaspoon of your delicious MateFit Metabolic Boost blend into the teabag that comes with you purchase.
Let the herbal blend steep in the hot water for about 4 or 5 minutes. If you prefer a stronger more effective batch, steep it for up to 5-7 minutes.
Drink it once you feel comfortable with the temperature and enjoy! Oh, and by the way, for a little extra treat we recommend a couple sprinkles of lemon juice and honey to sweeten it up naturally.
Krystle N. Verified Buyer 01/10/18
I love Matefit teatox. It tastes great, gives me energy all day and helps make me feel less bloated.
★★★★☆ Customer Reviews
We are in the market since 2013 from USA